Category Archives:
AOA News Letter
FOSPAH-1
OFFICE OF THE FEDERAL OMBUDSMAN SECRETARIAT FOR PROTECTION AGAINST HARASSMENT OF WOMEN AT THE WORKPLACE
1. Ms. Kashmala Tariq appointed as Federal Ombudsperson:
Ms. Kashmala Tariq has sworn in as the new Federal Ombudsperson for Protection against Harassment at Workplace. Oath was administered at Aiwan-e-Sadar Secretariat, Islamabad by the President on 27th February 2018.


Ms. Kashmala Tariq started her Law practice on 21st November, 1996 with Mandviwalla& Zafar at one of the leading Law firm headed by Senator S.M. Zafar and Syed Ali Zafar.She hasserved as a Member of National Assembly for two terms (2002 -2013). As MNA, she was a very vocal and active member and tabled more than 25 legislations in the Parliament. Some of her prominent legislations especially for the plight of women include: amendment in Hudood laws, amendment in Honor killing laws, Sexual Harassment, Women empowerment lawsand Formation of National Commission for Human Rights etc.Human rights have always been her passion and in this regard she has tabled legislations which include: Child rights, Child domestic labour, Bonded labour, Protection of minorities, amendment in Pakistan citizenship laws and Rights of senior citizens etc.She had been a very active member of Standing Committee of the Parliament (Finance, Commerce and Law, Justice &Human Rights).She was the first ever Pakistani Parliamentarian who had won a foreign election (by 175 Legislators) and got elected as Chairperson, Commonwealth Women Parliamentarians in 2007 (Dehli, India).Being Chairperson, she had been very keen about Human Rights especially Women Rights and served from 2007 to 2011.She had also served as Founding member and Executive Director of the Parliamentarians Commission for Human Rights (PCHR) for about 15 years.
2. Ms. Kashmala Tariq calling on the "Federal Ombudsman for Maladministration"
After taking charge, Ms. Kashmala Tariq had a meeting with Mr. Syed Tahir Shehbaz, Federal Ombudsman for Maladministration at Federal Ombudsman Secretariat, Islamabad on 28th February, 2018.
3. New Team FOSPAH:
Team FOSPAH hosted a reception for Ambassadors, Dignities, Ombudsmen, Politicians, Commissioners, representatives of the Armed Forces at Mariano, Bahria Golf City, Islamabad.
Ms. Kashmala Tariq attended a conference for Cyber Secure, Pakistan.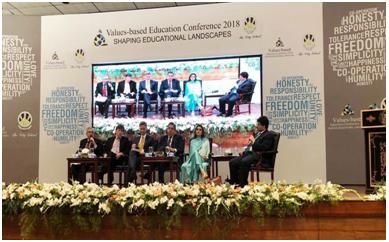 Ms. Kashmala Tariq at the Values-based Education Conference 2018.
4. Joint Collaboration with Islamabad Police:
Ms. Kashmala Tariq visited Police HQ, Islamabad for joint collaboration on harassment and gender issues. IGP Dr. Sultan AzamTemuri awarded her souvenir and assured her to extend their support for the cause.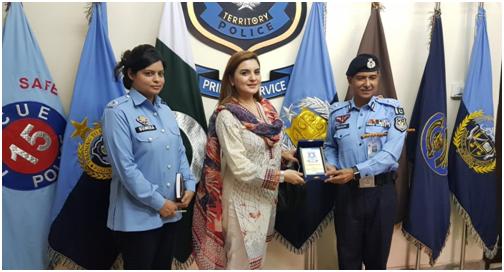 5. Participation of FOSPAH team at Seminar "Ending violence and harassment of women and men in the world of work":
Team FOSPAH was invited to speak at seminar on "C-100 and C-111 & Expert Group Meeting on ending violence and harassment of women and men in the world of work" organized by International Labour Organization (ILO) in collaboration with Care International and European Union on 15th May 2018. Representative of FOSPAH, Ms. Mehnoor Ahmedbriefed the audience about "Protection against Harassment of Women at Workplace, Act 2010" and the working of Federal Ombudsman Secretariat. Tele Voice Commercial (TVC) which is developed for the purpose of creating awareness among the stakeholders and the general work force about the Act of 2010 was also shown to the participants
6. MOU between FOSPAH and FPCCI:
Ms. Kashmala Tariq along with Mr. Agha Ali Abbas, Secretary Ombudsperson Secretariat held a meeting with Syed Mazhar Ali Nasir Sr. Vice President FPCCI and other office bearers of the Federation of Pakistan Chambers of Commerce and Industry (FPCCI) at FPCCI Head Office Karachi and signed an MoU for close cooperation, protection at workplace and implementation of anti-harassment laws in trade, industry and environment sector. Following this MoU, FPCCI will establish help desks to facilitate the complainants to place the manual of instruction regarding Code of Conduct at prominent places in their respective organizations. FPCCI will also conduct awareness seminars and training sessions at different cities of Pakistan regarding the anti-harassment laws.

7. MOU between FOSPAH and CRSS:
Federal Ombudsperson Secretariat for Protection against Harassment (FOSPAH) and The Centre for Research and Security Studies (CRSS) signed a Memorandum of Understanding (MOU) to work on harassment against women, at an Iftar dinner hosted at Islamabad Club on May 30, 2018.Under the agreement, both organisations would seek collaboration to promote enforcement mechanism of the Protection against Harassment of Women at Workplace Act 2010 and independent research, awareness campaigns, and development in Pakistan.

8. MOU between FOSPAH and FIA Cyber Crimes Cell:
FOSPAH hosted an Iftar Dinner at Mariano, Bahria Golf City, Islamabad on 6th June 2018. A wide range of guests including Ambassadors, Military and Civil officers, political figures and other stakeholders were present. Federal Ombudsperson, Ms. Kashmala Tariq signed an MOU with National Response Centre for Cyber Crimes; a robust wing of FIA. As every crime is going on cyber, so is harassment and preempting the need of the time FOSPAH and NR3C have devised a joint strategy to share information and work hand in hand in spreading awareness about the mutual cause.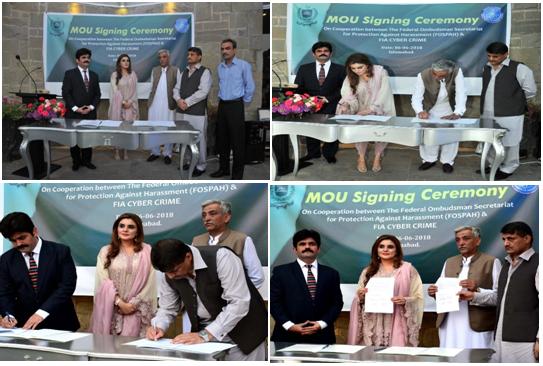 9. FOSPAH Vision:
"To create safe working environment for working force that is free from Harassment, Abuse, and fulfills their right to work with dignity and earn livelihood without any fear of discrimination"
10. How to Reach Us: